Hello Friends, Do you know about markup schema? Yes, of course you know about this, but what the actual need to add in SEO and it impact on our ranking on search engine?, most of us are not properly know, So today my blog is dedicated to markup Schema, its basics and how we can use it properly.
Markup Schema is basically form of Microdata which is used to enhance the description that appears in search engine. This is also known as Rich Snippet. Markup schema is a structured way to describe our content.
Top Search engines like Google, Bing, Yahoo and Yandex, started collaborating to create Schema.org in 2011 to improve the way to read and represent your page on SERPs.  Search Engine markup is especially important in the age of Rankbrain and hammingbird Google alrogithm.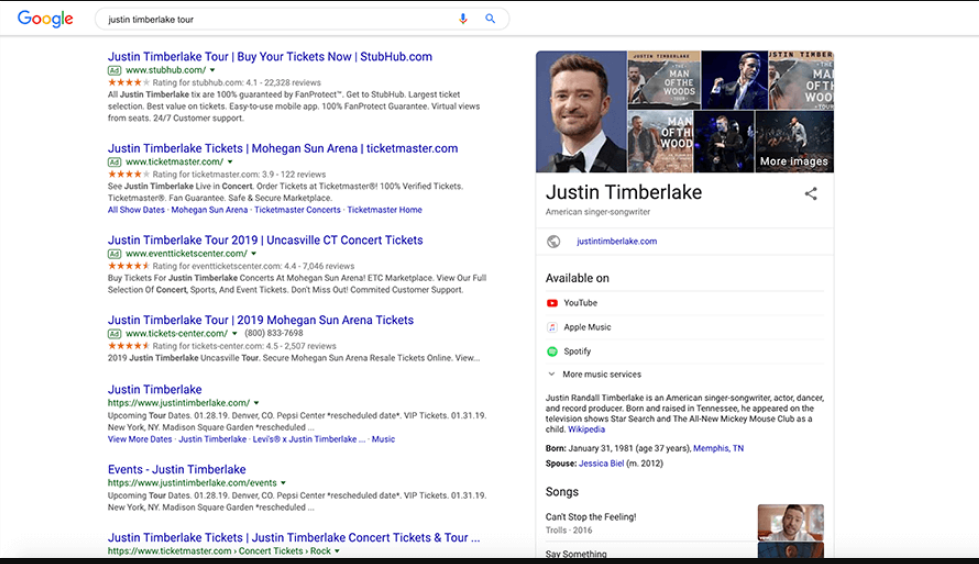 Does Markup Schema can improve your ranking
There is no any evidence that Markup Schema helps to increase your ranking but it is sure that it helps to increase your visibility on SERPs through Rich snippet content. Schema helps to search engine bots or crawlers to understand the content of your webpage more effectively. When you implement your content in schema, it gets chance to show this content more often in feature snippet or on Zero-opening content of SERPs which helps to improve your visibility as well as traffic on your webpage.
The Schema are a set of 'Types' and each type has associated with many set of properties. The vocabulary currently consists of 818 Types, 1326 Properties, and 289 Enumeration values which are arranged in a hierarchical way.
To know all Types of schema  visit the link SCHEMA.ORG
I am giving below most common types of schema are:
There is a good if you have any sort data of your website that's going associated with ITEMSCOPE, ITEMTYPE and ITEMPROP.  If you have a little bit knowledge of coding and HTML then you can easily implement these on your webpages. Also, Many examples you can get on schema.org  what kind of information you need to create any particular schema and how can use implement this on your website.
Before going to tell about how we can add this markup schema, first I want to tell how we can check that markup schema is added into website or not, most of the person who are using wordpress or who are beginner always confuse for these. Most of the wordpress plugins doesn't work properly and added unnecessary schema in our website or added the mismatch schema. SO it is neccessory to check schema time to time or after implementing in to our website.
Easily and Free of cost way to check Markup schema is Google structured data testing tools, Here we can easily check our website for Markup schema.
Step -1: Follow the link GOOGLE STRUCTURED DATA TESTING TOOL
Step -2: Copy the URL of website and add on FETCH URL section of above page and run the test.
If your website have schema, you will get the results in right side but if your website doesn't have schema you will get the message that No Schema detected on page.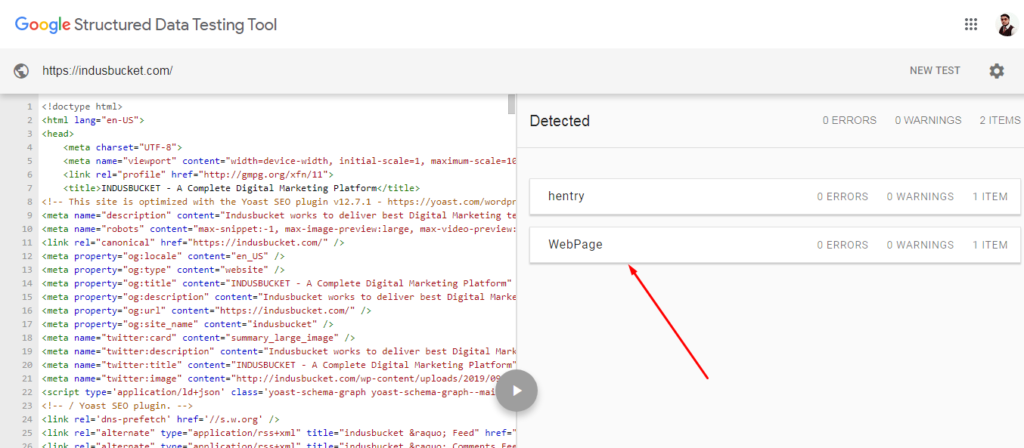 Now, another thing is how we can add schema on our website if website doesn't have markup schema. There are 3 types to implement or adding schema in your website or webpages.
Ways to adding Schema in your Webpage
RDFa
Microdata
JSON-LD
RDFa: it stands for Resource Descriptive Framework in Attributes. It is kind of code that can be easily implemented in any HTML, XHTML and XML based webpage or document. The attributes of RDFa include:
About
Rel and Rev
Src, href and resource
Content
Datatype
Typeof
Microdata: The implementation and motive of Microdata is as same as RDFa. The only difference between Microdata and RDFa is their attributes. Microdata's attributes include:
Itemscope
Itemtype
Itemprop
Itemid
Itemref
JSON-LD: It stands for Javascript Object Notation for Linked objects. It's form of script that can implement directly in the <head> or <body> tags of any webpage. The notation uses '@content' and '@type'attributes to specify the type of schema and its vocabulary.
How to Create Markup Schema for Webpage
There are various ways to create the markup schema. First, we need to understand which webpage need to add which kind of markup schema. Most of the plugins can add the markup schema on webpage but sometime placement of code is wrong as per the webpage.
Suppose if we have the homepage having information of website, address and other things, we can add there a WEBSITE/ORGANIZATION schema. If your webpage have blog, means you have to add ARTICLE schema, if your webpage have Job posting, means you have to add JOB POSTING schema, if your webpage have Events, Add EVENT Schema and so on.
Google has been provided the tool to create Markup schema  that is GOOGLE DATA MARKUP HELPER, you can create many schema here, just add the webpage and select the type of page and  click on start tagging.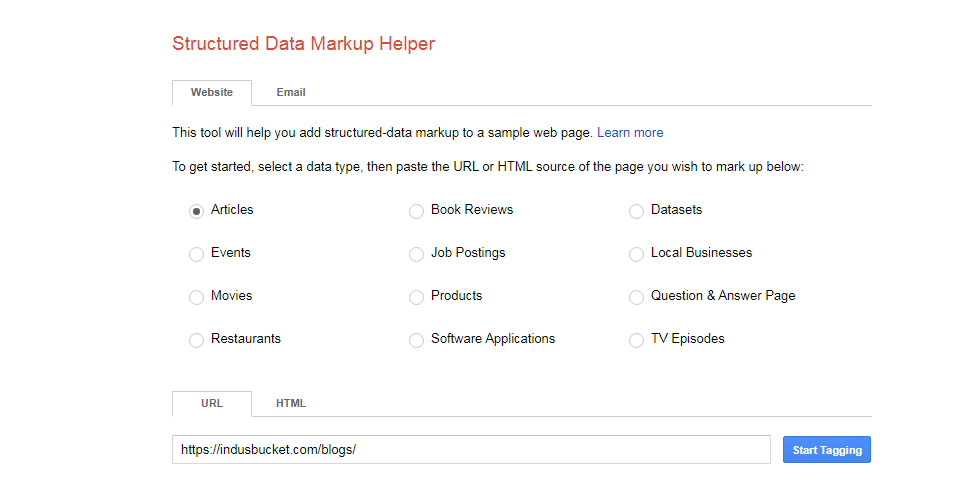 Select the content as per given tag, Google will automatically add the content as per your selection. Always select the right content as per tag else markup schema will not generate correctly that will affect the search engine content.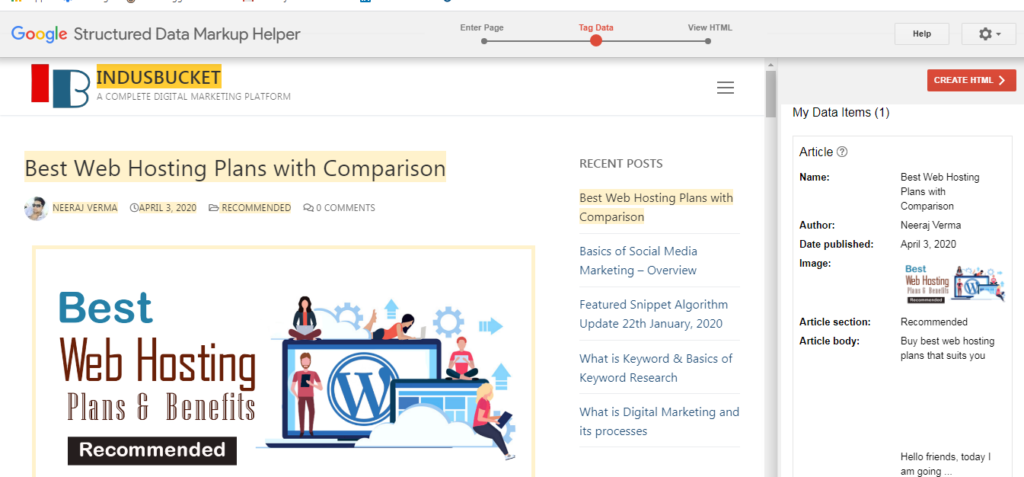 After selecting the all tags, click on Create HTML. Google has given the Schema in 2 formats that is Microdata and JSON-LD. You can download as per requirement and coding need and simply add in your website.
If you are creating Schema with other website or tools like: https://technicalseo.com/tools/schema-markup-generator/
After generating the code, you can check this at Google Structured data tools on CODE SNIPPET section, if there will be any mistake, Google will show that in form or ERROR. You can check the details of errors and correct the code again as per Google guidelines.
This is all about Markup Schema. As we all know that there is no any evidence which says about ranking the website by applying markup schema but yes, it increases the beauty of your webpage links which we see on search engines and definitely it helps to increase the audience or traffic on your web pages. Thanks… and Stay updated !